The best ice cream cake I ever had
I am amazed at what can be found on the net! Don't give up if you are trying to find something, particularly some history.
Just keep changing the search you are doing.
I was recently telling someone about the wonderful days when I used to go to "the city" with my mother just before Christmas. We would stop for afternoon tea at a little coffee shop below the city streets. You had to walk down some stairs, I loved looking up at the passing people. But best of all, they had the most amazing caramel ice cream cake.
So I went searching for the recipe and some information....
I just could not remember the name of the restaurant though! So I searched for
Caramel Ice cream cake in Sydney 1980's
. I came across a blog about Cahills Caremel Sauce. Of course the name came back to me immediately, the restaurants were Cahills.
So I put the word
Cahills
in front of the search and found an article on the Cahills restaurants.
http://www.pittwateronlinenews.com/cahills-restaurants-by-george-repin.php
The first paragraph was exactly what I remember about them:
The Cahill's restaurants in the inner city area of Sydney were well known not only to those seeking a well presented, although not too expensive, lunch or a pre-theatre dinner served in pleasant surroundings but also to generations of children for whom being taken to Cahill's for afternoon tea was a "treat". They also provided a popular meeting place for the ladies.
My sister and I had a wonderful afternoon tea there, the highlight was the caramel sauce, which turns out to be an icon on its own. You can read about this here :
http://dailyoxford.wordpress.com/2010/07/08/is-it-cahills/
Actually the ice cream cake was quite simple, just a slice of sponge cake with a scoop of ice cream on top, and caramel sauce. Some time ago, the SMH Column 8 published what is thought to be the recipe for the sauce, I think I will try it, here it is, with thanks to sydneytable.com.
THE RECIPE:
Very simply all you need is:
2Oz butter (that's 57gms)
3/4 cup of carnation milk
1/2 a cup of white sugar
1.5cups of brown sugar

ALL YOU NEED TO DO IS:
Put all the ingredients in a pan over low heat and stir to combine, increase the temperature and bring to the boil and then lower temp again and simmer for 4mins stirring constantly - take your time and make sure all of the ingredients are dissolved, melted and well combined.
Here is a picture of one of the restaurants: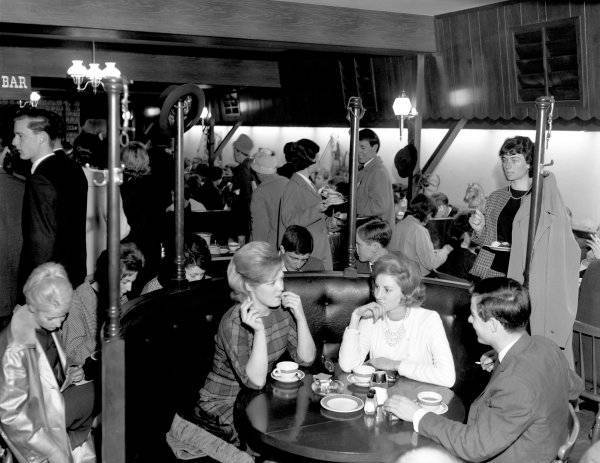 The Cahill family turned out to be quite interesting,
(with thanks to the Australian Dictionary of Biography):
CAHILL, TERESA GERTRUDE (1896-1979), confectioner and company director, was born on 26 January 1896 at Newtown, Sydney, third child of John Thomas Cahill, a draughtsman born at Parramatta, and his wife Jessie Frances, née Graf, from Victoria. After attending a Catholic school at Enmore, Teresa was employed as a clerk by George Witham, agent for Indian and Henderson motorcycles.

Her brother Reginald Henry (1890-1955) had been born on 7 November 1890 at Enmore. A motor mechanic, he enlisted in the Australian Imperial Force on 3 January 1916, was allotted to the 1st Mining Corps, Engineers, as a sapper and was wounded in action in France. Later he served with the Australian Motor Transport Service in England. Corporal Cahill returned to Australia in November 1917 and was discharged medically unfit on 19 February 1918.

About 1919 Teresa travelled to the United States of America and obtained a position as an advertising manager for the Peerless Motor Co. at Los Angeles. Within months she was promoted superintendent of the tuning and testing section. During her three-year stay at Los Angeles she took confectionery classes at night. Though she hoped to open her own motor business back in Australia, insufficient funds stopped her from realizing her dream. She had enough, however, to invest with her brother in a small sundae and confectionery shop, which opened in Pitt Street, Sydney, in 1922. This was the beginning of a successful business partnership.

Reg managed the production of confectionery; Teresa was responsible for marketing. By 1927 they had formed a company, Cahills Holdings, controlling a factory at Alexandria and five shops in the city to retail their products. Other confectionery outlets followed in Melbourne, Adelaide and Brisbane, including refreshment concessions in new theatres. With an eye for selling and a deft hand in decoration, Teresa influenced retail expansion. Opened at 51 Castlereagh Street in 1933, the Italian Coffee Shop was criticized by the Australasian Confectioner: 'it would be difficult to conceive of anything less attractive as a shop name to the average Sydneysider'. In 1937, with shops and restaurants established in the city and suburbs, they opened their most ambitious venture. Taking up four floors in Pitt Street, with a refrigeration and air-conditioning unit in the basement, the building had a ground floor café with a soda fountain, a high-class restaurant on the first floor and a banqueting or dance room on the second.

On 4 October 1928 at St Mary's Cathedral, Sydney, Reg married Mary Florence Hickey; his brother Cyril, a Redemptorist priest, officiated. Teresa had a practical approach to the business; aunts who lived with her at Centennial Park were employed to run cash registers at the restaurants. Reg was kept busy with the interstate ventures and a refrigeration enterprise, and worked in the business until he died of cerebral thrombosis, on 12 September 1955. In 1961 the company listed on the Sydney Stock Exchange as Cahills' Holdings Ltd. Teresa and two of Reg's children were among the directors, with Edgar Swain chairman. At their peak there were twenty-five themed restaurants, 'tricked out in gewgaws from the South Sea Islands, or Holland, or Tudor England', or African 'Safariland' or Bavaria.

The family remained on the board until Nestlé Australia Ltd bought a controlling interest in 1970; the multinational corporation made a complete takeover in 1977. Though Nestlé announced plans for expansion, the restaurants never regained their former glory.

Described as 'a fantastic woman' by former staff, Miss Cahill oversaw a special service to patrons. Still she had time to indulge her other interest: motoring. Her first car was a powerful, six-cylinder Chrysler, which she drove around the city in the 1920s. She was said to have driven one of the first electric model motorcycles in Sydney. In her garage she had Buicks and Packards, although her favourites were Daimlers. She was, as well, an avid reader.

A devout Catholic and charity worker, Teresa raised money for the missions, and helped to spread the teachings of the Church especially after the second Vatican Council. By the 1960s she lived at Darling Point. She died on 9 September 1979 at the Sacred Heart hospice, Darlinghurst, and was buried in the Catholic section of Waverley cemetery. The restaurants that Teresa and Reginald established were part of Sydney's social scene for over forty years—'for romantic trysts, family gatherings and girls' nights out'. They were also good places for women dining alone. Cahills' restaurants were known for ice-cream cakes and waffles, but the fondest memories were for their caramel sauce—which could be purchased in waxed paper tubs to take home
Thanks to TOVE for this advertisement from 2nd July 1946: